Pinakbet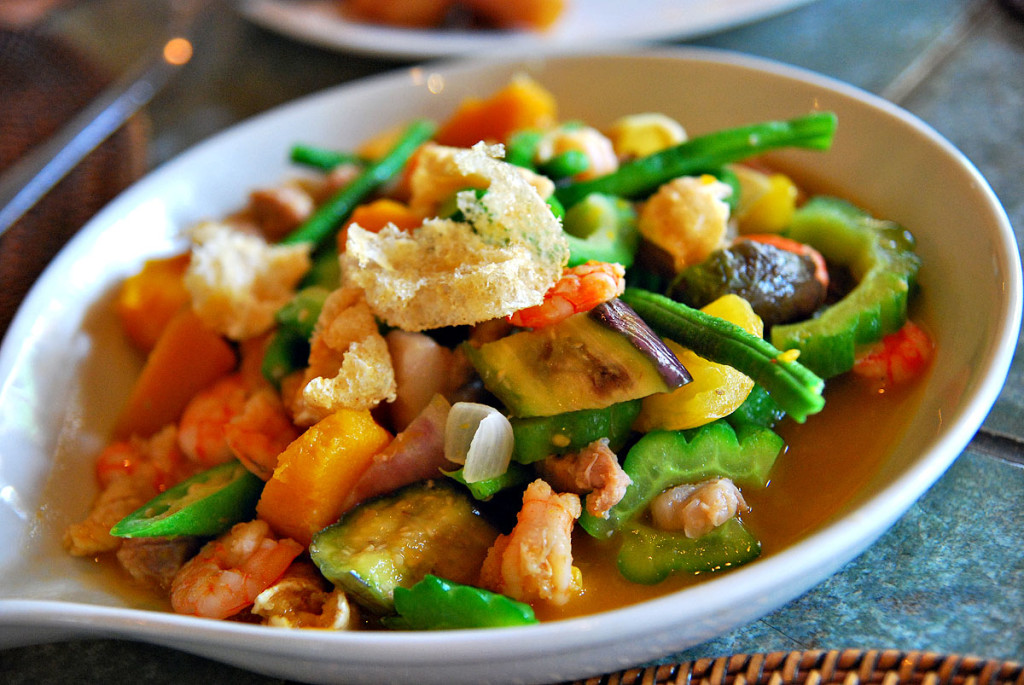 2 tbsp bagoong
½ c water
1 med onions
6 ripe tomatoes, chopped
1 inch stem ginger, slivered or pounded
6 small eggplants, cut lengthwise
2 young, bitter melon fruits (do not choose large fruits with obvious ripeness)
20 small okra, cut through ends
1 bn sitaw or long beans cut stem ends and pinch to desired lengths
1 c green lima beans. (may substitute cooked, ¼ dry beans)
In a small pot, boil the bagoong in the water until it has dissolved.
In the pot where the pinakbet will be cooked, put the following vegetables in a layering order: minced onions, tomatoes, ginger, eggplants, string beans, and okra.
Then strain the boiled bagoong before pouring the broth on the vegetable pot. Discard the rest of the bagoong.
Cover the pot well.
Put the fire on high and when it starts to boil, lower the heat to simmer. Be careful not to burn the vegetables. This will take not more than 25 minutes.
Do not mix the vegetables with a spoon while simmering the dish. Why not? It's a cooking secret!
Remember that the pinakbet is done when the vegetables appears "wrinkled".
Serve hot with rice.