Kare-kare is a famous Filipino dish from the province of Pampanga. Kare-kare is a Philippine dish that is rich in with carbohydrates, vitamins, minerals, and protein. It is one of the dishes that are typically served at fiestas.

Kare-kare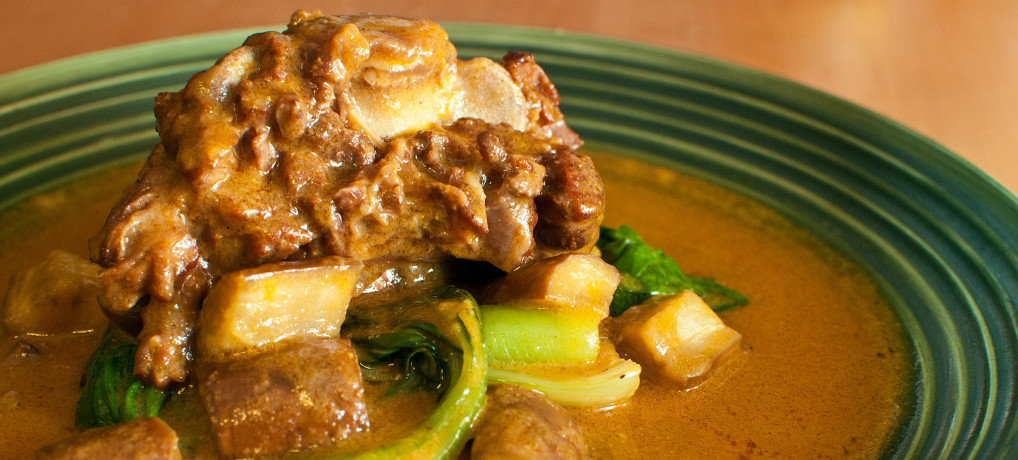 Ingredients
1 kilo oxtail, cut into serving pieces
2 eggplants, slice diagonally
5 pieces string beans, cut into 4 cm length
Small banana heart
Pechay
2 cloves garlic, crushed and peeled
1 medium sized onion
3 tablespoons cooking oil
2 teaspoon salt or patis (fish sauce)
5 cups water
½ cup unsweetened peanut butter
achuete (optional)
¼ cup rice flour dissolved in tap water
tablespoon sauteed shrimp paste (bagoong)
Instructions
Put the meat, water, and salt in a casserole and simmer for less than 60 minutes or until tender. Then remove the meat from the casserole to a plate.
On a separate casserole or saucepan, boil the banana heart until it's done. Set aside.
Saute garlic and onions on a saucepan until cooked. Put the string beans, eggplant in and boil until cooked. And then, to avoid overcooking the vegetables, remove the vegetables from the saucepan and put them into another plate.
Put in the meat in the skillet and saute. Transfer the meat back into the casserole with the stew water and simmer for 10 minutes.
Stir in the peanut butter and simmer for another 5 minutes. Add in the rice flour mixture to thicken the sauce. Simmer for another 5 minutes.
Serve with the cooked vegetables and bagoong on the side.
Notes
If you want your kare-kare to appear more appetizing, saute achuete in oil to extract its color. Remove the achuete seeds before adding it to the dish.
If you don't want your dish to be too salty, it is safer to use patis (fish sauce) because salt have sediments that are usually left at the bottom of the saucepan.
Fish paste (bagoong) can be bought in bottles or you can saute it yourself and serve in a separate saucer together with your delicious and healthy kare-kare dish.